Street 3, Area Qala-e Fatehullah,
District 10, Kabul,
Afghanistan
0202213598
Sudan
Sudan had only 11 years of peace since its independence in 1956. Civil wars in the south and west of the country forced millions of people from their homes and prevented economic development.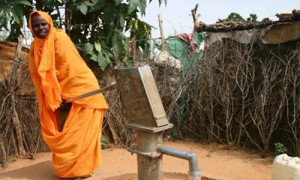 These years of conflict resulted in over two million deaths, and more than four million people forced from their homes. In 2005, a peace deal ended the longest-running civil war in Africa.
South Sudan declared independence in 2011, but conflict in western Sudan's Darfur region – which began in 2003 – remains unresolved. After years of fighting, 3.6 million Darfurians continue to endure a cruel mix of conflict, displacement, drought and failed harvests. In South Kordofan and areas bordering South Sudan, disputes also continue. Sudan is also hosting refugees fleeing conflict in neighbouring South Sudan.
Poverty in Sudan is deep and widespread, with some regions suffering more than others. Some 15 million people live in poverty, many without access to even basic services. For example, up to 60 per cent of the population do not have adequate access to healthcare.
In 1984, Islamic Relief launched its first ever humanitarian response – benefitting Sudanese communities caught up in devastating famine. We registered our field office in 1991.
Areas to benefit from our programmes include Khartoum,Blue Nile, North Kordofan, South Kordofan and Central Darfur and West Darfur.
We began our work in Darfur shortly after fighting erupted in the region. Islamic Relief continues to manage camps in West Darfur, which provide people who have fled the violence with shelter, water and sanitation. We also run a primary health clinic, a school and a women's committee within the camp – with a focus on conflict resolution.
Our work in Sudan includes both emergency relief and development.