Street 3, Area Qala-e Fatehullah,
District 10, Kabul,
Afghanistan
0202213598
Pakistan
Islamic Relief began its work in Pakistan in 1992, providing relief items through our Ramadan and Qurbani programmes.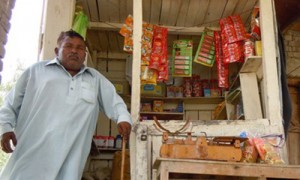 In 1994, initiating a child welfare and protection programme, Islamic Relief Pakistan established itself as a development organisation and then expanded its work by launching a major health and livelihoods programme in Neelum Valley.
As well as development initiatives, we also deliver vital emergency response programmes. These have included responding to earthquakes, floods and droughts in regions such as Balochistan, Punjab, Rawalpindi and Turbat – as well as the Sindh cyclone of 1999 and the impact of the Afghan crises in 2002.
More recently, the quality of our response to the 2005 earthquake was formally recognised by the government of Pakistan. We extended our relief and rehabilitation operations in Khyber Pakhtunkhwa during the displacement crisis of 2009, and delivered extensive emergency responses to the devastating floods that hit swathes of the country in 2010 and 2011.
Our Prevention of Blindness project led to the opening of an eye hospital in the Nushki district in 2006. The programme is still operating and benefiting the community. In addition, we were the first civil society organisation to offer poor Pakistanis a route out of poverty through our Shariah-compliant Islamic microfinance programme.
Islamic Relief continues its development programmes, which include building 15 new schools in Muzaffargarh, and prioritises our Child Welfare Programme.