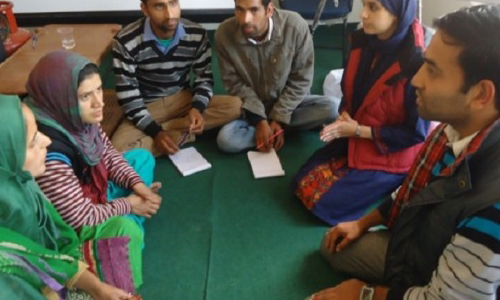 Islamic Relief is providing counselling and psychosocial support to people affected by the floods in India and Pakistan.
When floods destroyed homes, infrastructure, and livelihoods in India and Pakistan earlier this year, millions were impacted.
With their everyday lives violently disrupted, the realities of life in the aftermath of the disaster have hit children particularly hard. School attendance has dropped, and increasing numbers of young people are leaving education altogether so they can earn money and help support their families.
In Indian-administered Jammu and Kashmir, Islamic Relief is on hand to support flood-survivors in picking up the pieces. Our psychosocial project is working with affected individuals in 20 villages in the Baramulla and Bandipora districts.
Supporting people to come to terms with their experiences
We are engaging with women's self-help groups and youth groups with a focus on adolescent girls. We have also trained local volunteers to reach out to people in particular need of support – referring them to the counselling on offer through the scheme.
"When I am in the training sessions and interacting with other members I feel happy; as if all my worries have vanished," said a young volunteer participating in the training. "But when I return home, the harsh reality hits me in the face."
"During the group meetings, we have observed that people show traumatic reactions," he explained. "Sometimes it is difficult for them to talk openly about their feelings, which indicates the need for individual counseling as well."
The project also refers people for further support as required.
Child Friendly Spaces offering fun and routine
To ensure that affected children receive the specialist support that they need, Islamic Relief is setting up Child Friendly Spaces in scores of locations. Here, children are able to play and have fun in a safe environment, which offers respite from their disrupted routines – as well as informal educational opportunities.
Around 1,000 children are expected to benefit from the Child Friendly Spaces, which will be maintained by trained community volunteers.
So far, the results of the project – which complements traditional coping mechanisms in the area – are encouraging. Participants report that sharing their feelings of grief, loss, and apprehension is helping as they begin the huge task of rebuilding their lives and communities.
Latest News